The premiere of our game "Best Month Ever!"
At the Warsaw Film School, we not only produce films! Today is the premiere of our first "full-length" video game – "Best Month Ever!". Created by students, graduates and employees of the "Video Game Development" program, the narrative point & click adventure game will be published by Klabater and will be available on personal computers (Steam and GOG) and console platforms – Switch and Xbox. Soon the game will also be released on PlayStation.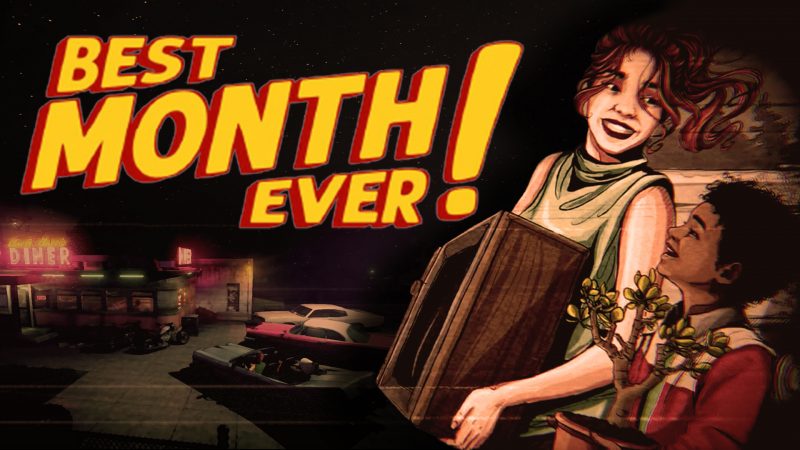 Play as Louise and, together with Mitch, her son, set off on a crazy journey across the 1960s USA. Learn about the protagonist's past and help her make decisions that will shape the fate of adult Mitch. All your choices will have consequences, but time is running out - Louise has only a month to live. What future will you build for her son . . . ?
"Best Month Ever!" is a unique, socially engaged story that touches upon many difficult topics. Dressed in an entertaining, interactive form, the game evokes emotions and provokes reflection.

Our talented creators put a lot of work and heart into this production, which resulted, among others, in loads of positive feedback and comments during the PAX East 2022 presentation in Boston, and over 3 million views of announcements on MarMorph's TikToker channel!

Where did this hype come from? See for yourself! World premiere of the game today on Steam, GOG and console stores! 

Be sure to check out our game and help Louise in her mission. The clock is ticking!
A lot of fun and emotions guaranteed!
STORY

Jędrzej Bączyk

Dawid Janicki

Maciej Ślesicki

Filip Hillesland

 

GAME DIRECTION

Filip Hillesland

 

PRODUCTION

Ewa Maria Szczepanowska

Michał Kujawa

Justyna Basińska

 

GAME PROGRAMMING

Maciej Szcześnik

 

2D ART

Oliwia Borysiewicz

 

3D ART

Maciej Szcześnik

 

MUSIC

Jędrzej Bączyk

Waldemar Bata

 

ANIMATION

Maciej Szcześnik

 

SOUND DESIGN

Jędrzej Bączyk

Wiktor Nogalski

Mateusz Parkot

Maciej Szcześnik

 

MOTION CAPTURE PERFORMANCE

Róża Klekotko

Matt Lucky

 

MOTION CAPTURE TECHNICIANS

Adrian Trembacz

Filip Ślesicki

Maciej Szcześnik

 

DIALOGUE TRANSLATION

Jarek Kupść

CASTING DIRECTOR

Jarek Kupść

 

COORDINATING PRODUCER

Justyna Basińska

 

SOUND DESIGN

Wiktor Nogalski

Mateusz Parkot

Grzegorz Trojan

 

STUDIO RECORDING ENGINEER

Jacek Pająk

 

STUDIO SOUND RECORDING

Jan Dzyr

Zuzanna Gągała

Lena Szegda

Tomasz Mąka

Mateusz Ruciński

 

ADDITIONAL PROGRAMMING

Filip Ślesicki

 

ADDITIONAL 2D ART

Kamil Kaczmarek

Joanna Nowicka

 

ADDITIONAL 3D ART

Katarzyna Madej

Adrian Chmielewski

Grzegorz Dzikowski

Patryk Dźwilewski

Artur Lengert

Cezary Okła

Dawid Sławiński

AleksanderWiśniewski

 

ADDITIONAL GAME DESIGN

Wiktor Chrobak

Antoni Gawdziński Fertacz

Jakub Jakieła

Dave Lerberg

Krystian Łobanow

Paweł Pernak

 

SPECIAL THANKS

Marek Ziemak