Screenings of our films at CINEMAFORUM
The CINEMAFORUM festival is coming up. As every year, it will include screenings of films nominated for the Jan Machulski Awards – the only such comprehensive awards granted to young artists in Poland. Among them there are as many as four productions of the Warsaw Film School.
CINEMAFORUM is the International Short Film Forum which has been held continuously in Warsaw since 2002. It is one of the longest-running and most recognizable Polish festivals dedicated to short films. This year's 20th edition will take place from 3 to 7 November 2021 in the Kinoteka Cinema Hall in the Palace of Culture and Science and the Andrzej Wajda Film Culture Centre.

 

This year's Jury of Jan Machulski Awards will consist of: Katarzyna Klimkiewicz - director and screenwriter, Gabriela Muskała - actress, playwright and screenwriter, Piotr Dylewski - screenwriter and director, and Michał Rytel-Przełomiec - cinematographer.

 

By decision of the Awards Organizing Committee, due to the challenges the film industry has faced in the wake of the COVID-19 pandemic, the Jury will select this year's Laureates from nominations awarded in 2020 and 2021.

 

It is worth mentioning that as many as four out of five nominations for our films were received by actresses in the Best Actress category. The nominated films will be screened at Warsaw's Kinoteka cinema.
SCREENINGS SCHEDULE
Wednesday, November 3, 9:30 PM
SCREENING IV
MASHA | dir. Krzysztof Chodorowski
Nomination for Best Actress: Daria Polunina
Daria Polunina was honoured with a prestigious nomination at last year's 13th KAMERALNE LATO festival in Radom. Daria comes from Ukraine, where she graduated from the Kiev State Institute of Theatre and Film Arts named after I. K. Karpenko-Kary. She has lived in Poland for several years and speaks Polish, Ukrainian and Russian as well as French and English. She also works as a model. In the film "Masha" she created a touching acting performance, playing the role of Wiera.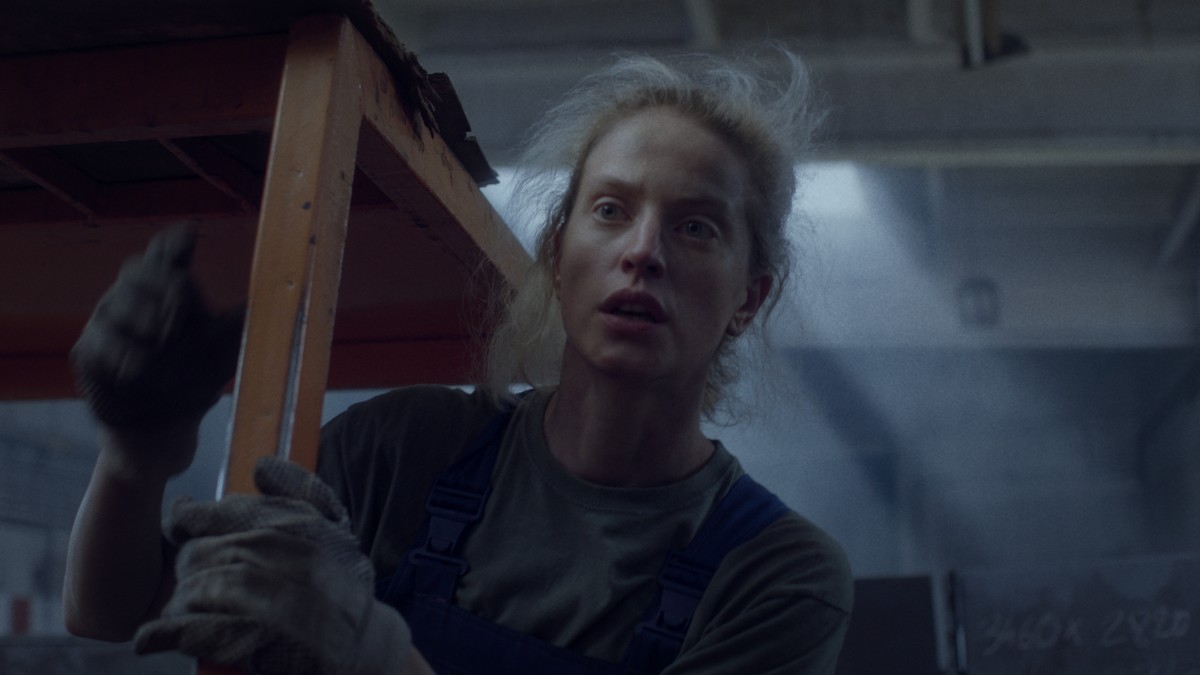 Daria Polunina. Still from the film "Masha". Cinematographer: Michał Stańczyk
"Masha" is a shocking story of a Ukrainian woman Vera, who works illegally in a Polish factory. One day she makes a desperate attempt to help her friend Masha, who has been injured in the accident at work. 
CAST: Daria Polunina, Sonia Mietielica Witold Dębicki, Kacper Lech, Zuzanna Rutkowska, Konrad Żygadło
SCRIPT & DIRECTING: Krzysztof Chodorowski DOP: Michał Stańczyk EDITING: Julia Muszyńska SOUND: Mateusz Weigl ARTISTIC SUPERVISION: Barbara Pawłowska PRODUCTION MANAGER: Agata Basista PRODUCER: Maciej Ślesicki PRODUCTION: Warsaw Film School
Thursday, November 4, 2:20 PM
SCREENING V
THE DRESS | dir. Tadeusz Łysiak
Nomination for Best Actress: Anna Dzieduszycka
Nomination for Best Script: Tadeusz Łysiak
Anna Dzieduszycka has been nominated for the Jan Machulski Award for her exceptional performance as Julia twice: during last year's 7th edition of the WAMA Film Festival and at this year's 14th IFF Zoom - Zbliżenia. The lead role in the short film "The Dress" is Anna's acting debut. Although she is not a professional actress, her talent has already been recognized by juries and viewers around the world. Anna won the top prize for best actress at Flickers' Rhode Island International Film Festival in the US.
Tadeusz Łysiak, the film's director and screenwriter, got his nomination at this year's Zoom - Zbliżenia. Tadeusz is a graduate of Cultural Studies at the University of Warsaw, student of Directing at the Warsaw Film School. Creator of two award-winning short films in Poland and abroad: "Techno" (starring Leszek Abrahamowicz, Danuta Stenka, Michalina Olszańska) and "The Dress" (Anna Dzieduszycka, Dorota Pomykała, Szymon Piotr Warszawski). Participant of the prestigious program FUTURE FRAMES - Generation NEXT of European Cinema within Eastern Promises at the Karlovy Vary Festival. Winner of the "Discovering Eye" award for young talented filmmaker at the Polish Film Festival in Chicago.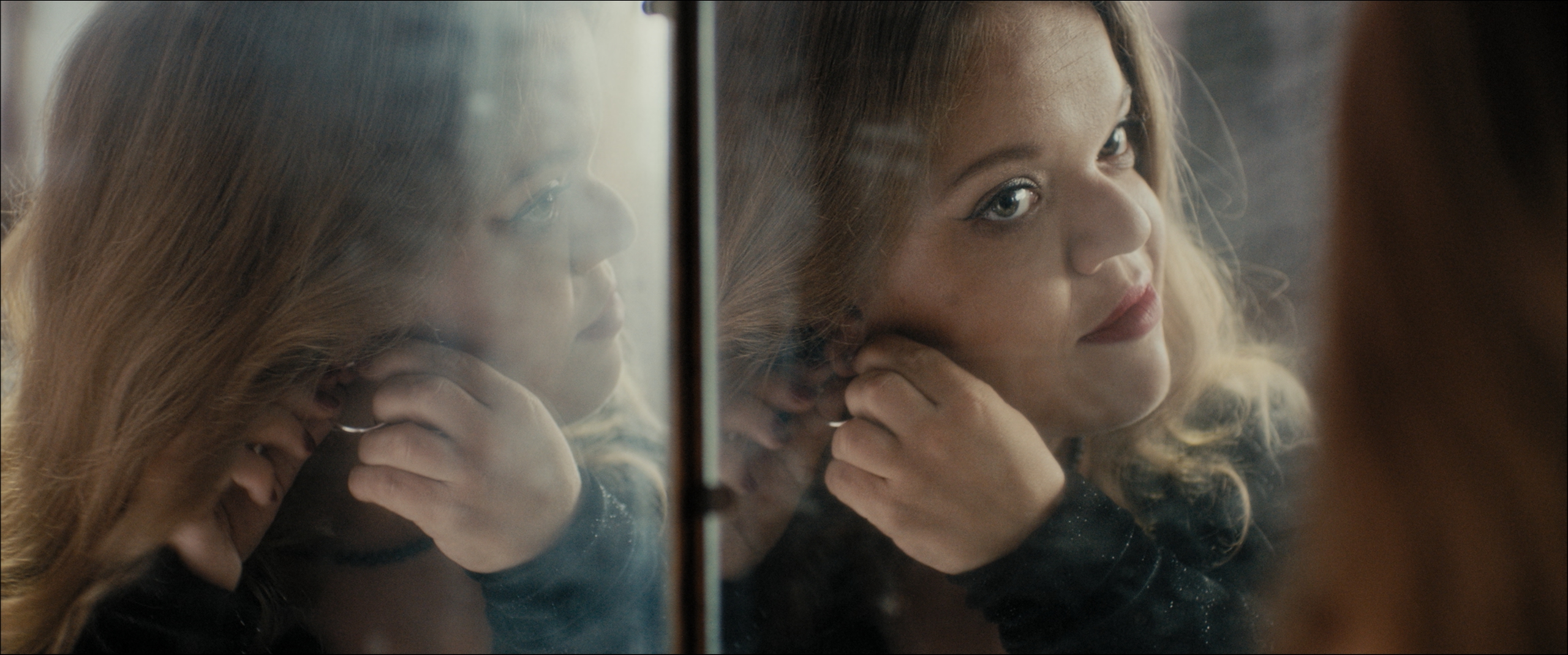 Anna Dzieduszycka. Still from the film "The Dress". Cinematographer: Konrad Bloch
Lust, sexuality and physicality. These are the deepest desires virgin Julia suppresses while working at a wayside motel. That is until she crosses paths with a handsome truck driver, who soon becomes the object of her fantasies.
CAST: Anna Dzieduszycka, Dorota Pomykała, Szymon Piotr Warszawski, Andrzej Glazer, Lea Oleksiak
SCRIPT & DIRECTING: Tadeusz Łysiak DOP: Konrad Bloch EDITING: Mariusz Gos SOUND: Błażej Kafarski MUSIC: Jan Królikowski PRODUCTION MANAGER: Monika Ossowska ARTISTIC SUPERVISION: Wojciech Saramonowicz PRODUCER: Maciej Ślesicki PRODUCTION: Warsaw Film School, Dobro, Miło Postproduction, Studio Głośno
Thursday, November 4, 2:20 PM
SCREENING V
DISMAY | dir. Joanna Helena Szymańska
Nomination for Best Actress: Zoja Szcześniak
Zoja is one of the youngest nominees for this prestigious award. She was nominated at this year's 8th WAMA Film Festival in Olsztyn for the moving role of Ula. "Dismay" is only the second film in the young actress' portfolio, which makes her success even more impressive.
Zoja Szcześniak. Still from the film "Dismay". Cinematographer: Przemysław Brynkiewicz
"Dismay" is a magical and brutal story set in a Masurian village about the extraordinary bond between a father and an eight-year-old daughter and about the terrible consequences of an attempt to take away a hypersensitive girl from an alcohol-addicted musician. Little Ula does not know that at herCommunion party, instead of a long-awaited mother who has left her father, a curator from the social welfare centre will appear, ready to take her to an orphanage immediately. However, the girl will never allow anyone to take back what she managed to save after her mother left. Together with her father, a local organist, against all odds, she believes her mother will come back and she is still waiting for this moment. The joyful, May day of the First Holy Communion will turn into a nightmarish triumph of the wild world of Masurian nature, which is the only ally of little Ula.
CAST: Zoja Szcześniak, Mariusz Kiljan, Joanna Fertacz, Joanna Trzepiecnińska, Dominika Pasternak, Karolina Gibowska, Andrzej Andrzejewski, Rafał Zawierucha, Aleksy Komorowski
DIRECTOR: Joanna Szymańska SCRIPT: Malwina Chojnacka DOP: Przemysław Brynkiewicz EDITING: Łukasz Falkowski, Rafał Stolarczyk, Adam Cyran SOUND: Karol Szykowny MUSIC: Jan Sanejko ARTISTIC SUPERVISION: Maciej Ślesicki PRODUCER: Maciej Ślesicki PRODUCTION: Warsaw Film School
Thursday, November 4, 4:40 PM
SCREENING VI
BY THE RIVER | dir. Agata Korycka
Nomination for Best Actress: Aleksandra Pisula
Aleksandra Pisula has been nominated by the jury of this year's 14th KAMERALNE LATO festival in Radom. Aleksandra graduated from the State Higher School of Theatre in Krakow. She has working with Teatr Polski in Bydgoszcz, Teatr im. Kochanowskiego in Opole and Teatr Ochoty in Warsaw. Pisula has played numerous roles in theatre, film and TV series. She co-wrote the screenplay for Panic Attack, in which she played one of the leading roles. In "By the River", she created a amazing performance as policewoman Kinga.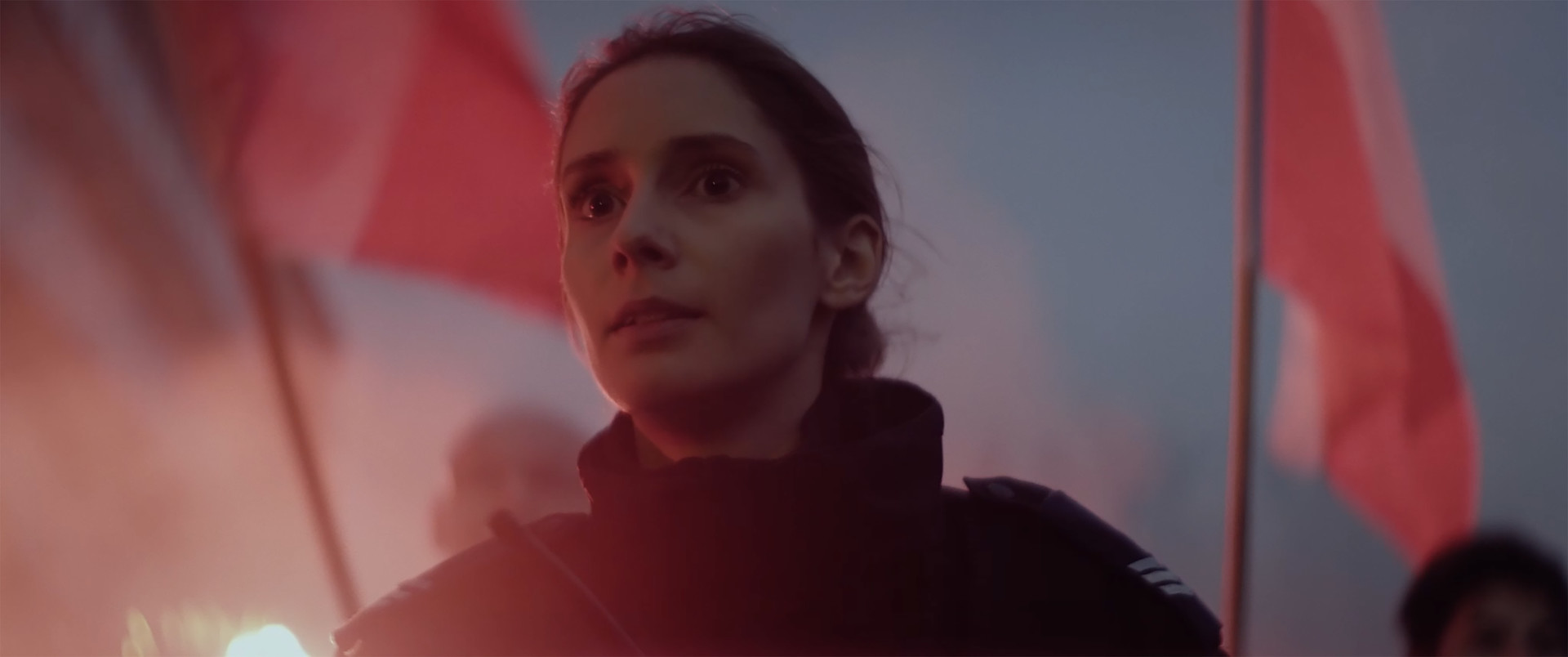 Aleksandra Pisula. Still from the film "By the River". Cinematoghrapher: Olaf Malinowski
A movie about the courage necessary to live a life in harmony with yourself. Policewoman Kinga fallsin love with a woman. She engages in helping women beaten during the march against fascism. She breaks an order. This gives her the strength to reject the values she disagrees with and build herself anew. The film refers to real events - the Women's Strike and the Independence March (Marta Lempart appears in the film). These actions give her the strength to throw away the values she disagrees with and build herself anew.
CAST: Aleksandra Pisula, Anna Gorajska, Anna Bielecka, Dobromir Dymecki, Łukasz Wójcik, Maciej Gośniowski
SCRIPT & DIRECTING: Agata Korycka DOP: Olaf Malinowski EDITING: Anna Maria Filipow SOUND: Patrycja Krysik, Zofia Węgrzyn MUSIC: Przemysław Książek ARTISTIC SUPERVISION: Marek Brodzki PRODUCTION MANAGER: Pamela Barbaś, Aleksandra Ziomka PRODUCER: Maciej Ślesicki PRODUCTION: Warsaw Film School
Actress Judyta Paradzińska and actor Bartosz Bielenia were also nominated for the J. Machulski Awards for their roles in "Ondine" directed by our graduate, Tomasz Śliwiński. This special film is dedicated to Leo, Tomek's son, and all those suffering from the Curse of Ondine (CCHS) and their loved ones. Tomasz has already made a documentary film - "Our Curse" - addressing the issue of this rare condition. The film, produced by the Warsaw Film School, was nominated for an Oscar.
We wish the best of luck to our creators! We invite you to the screenings of our films at Kinoteka!
Films by students of the Warsaw Film School are co-financed by the Polish Film Institute