Q&A with DAVID STRATHAIRN
This Thursday, January 26th at 10:00 a.m. we invite you to Kino Elektronik for a Q&A session with actor David Strathairn, director Derek Goldman and screenwriter Clark Young organized especially for students of the Warsaw Film School!

Thanks to an invitation from the Jan Karski Educational Foundation, David Strathairn, an actor nominated for an Oscar Award for the movie "Good Night and Good luck" (2005, dir. George Clooney) and known for roles in Oscar movie "Nomadland" comes to Poland to play the title role of Jan Karski.

Our students received free access to the recording of the play - be sure to check your emails before the Q&A!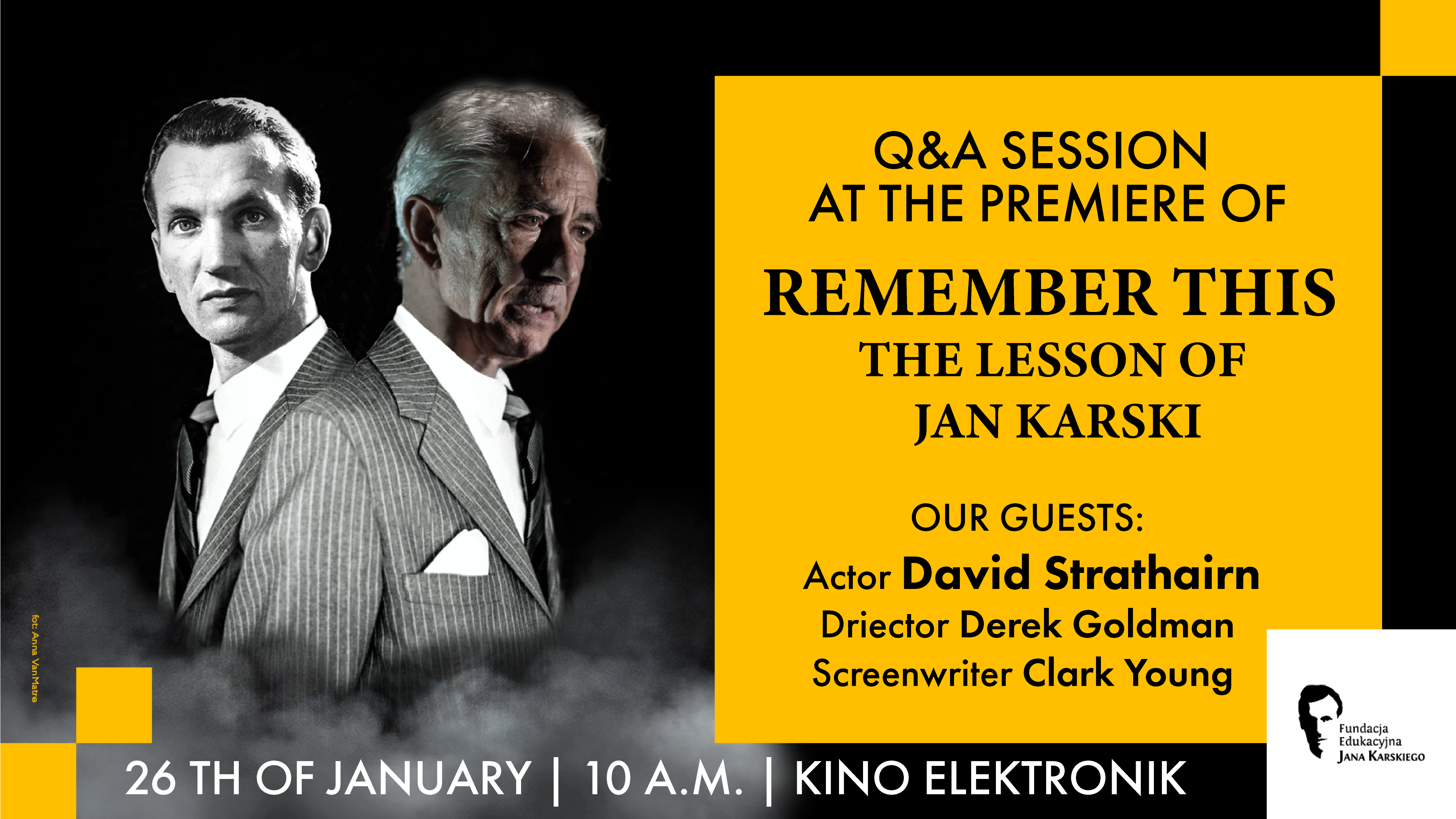 About the play:

"We are currently living in times of unprecedented challenges. The lesson from Jan Karski's story is especially now terribly meaningful. Our performance and the film, which will be released soon, give viewers a chance to enter the world and the character of the emissary of the Polish Secret State. We hope that in this way we will be able to inspire you to act for the values ​​that were close to him", says director Derek Goldman.

The play "Remember This: The Lesson of Jan Karski" was created at the Laboratory for Global Performance and Politics in November 2019 at Georgetown University.

The monodrama was shown in London in cooperation with Human Rights Watch, during the celebrations of the 75th anniversary of the liberation of Auschwitz-Birkenau. It was played at the Shakespeare Theater Company in Washington, Chicago, and Bilbao as part of The Wellbeing Summit for Social Change, in New York at the Theater for a New Audience, and at the Berkeley Repertory Theater in California.

In 2023, thanks to the efforts of the Jan Karski Educational Foundation and the Jan Karski Educational Foundation, the performance will be shown in four cities in Poland:
📌 Warszawa - Teatr Dramatyczny m. st. Warszawy (25,26.01),
📌 Łódź - Artkombinat (29.01)
📌 Kraków - Teatr Variete (01.02)
📌 Poznań - Aula Artis (04.02)

See you at Kino Elektronik!